Leading North & South Carolina Petroleum Delivery: Pope Transport
Pope Transport provides safe and reliable delivery of petroleum and propane to convenience stores, gas stations, truck stops and more throughout North and South Carolina.
We assist business owners who are in need of answers to their fuel transportation obstacles — at Pope Transport, we are happy to provide solutions.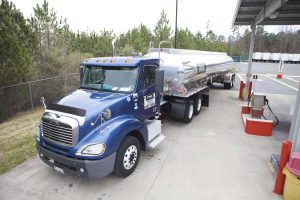 What Fuel Delivery Service from Pope Transport Can Do for You
Relying upon Pope Transport for all of your businesses' fuel transportation needs can help you better manage:
Inventory: Having a reliable partner to help manage your petroleum inventory is crucial to a businesses' success. Pope Transport's on-time fuel delivery service affords business owners the opportunity to establish clear-cut par levels. Be sure to ask about our state-of-the-art fuel inventory management system currently available in NC & SC.
Customer Demand: Most consumers don't tell you they've had a bad experience — they simply don't come back. If your gas station or convenience store has ever run out of fuel, you know this to be true. Our delivery team can prepare you to face the demands of your surrounding consumer base.
On-site Safety: At Pope Transport, we're known for our attention to safety. From your customers to those around them on the road, our truck drivers and team members are expertly trained in methods to keep everyone around them safe and secure during any fuel delivery and transport.
Cash Flow: Having an accurate, convenient fuel transportation company can help your business allocate money previously tied up in inventory elsewhere.
Pope Transport provides petroleum delivery service to customers in the Raleigh, Durham, Greenville, Greensboro, Charlotte, Asheville, Wilmington, NC areas as well as those in Columbia, Spartanburg, Greenville, North Augusta, Lexington and Charleston, SC.
Contact us by phone at 800-329-1137 and let's craft a custom plan for your success!