Pope Transport: Petroleum Delivery Experts
Pope Transport is one of the premier petroleum delivery companies in the entire Southeast. We strive to provide consistent and reliable delivery of petroleum and propane to all of our clients spread across the Carolinas and Virginia.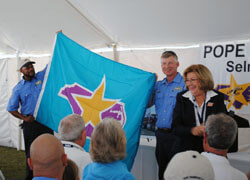 The Carolinas' Family-Owned Transporters
Ensign Emmett Pope founded the company in 1919 after his service in World War I. We began as a coal hauling business from a horse-drawn wagon. In 1938, he added delivery of home heating oil to his growing list of services and the bridge to bring Pope Transport into the future began.
Today, Judson Pope is the president of Pope Transport, which maintains a corporate office in Mt. Olive, NC, over 50 trucks, over 85 trailers and eight dispatch terminals with offices in Selma, Greensboro, and Charlotte, NC and Charleston, North Augusta, Lexington and Greenville, SC with a corporate office in Mt. Olive.
Growth, Jobs & Valued Team Members
As Pope Transport continues to grow into the 21st century, we are able to provide job opportunities to dedicated, honest and hardworking men and women. Our network of truck drivers and customer service specialists provide our customers with unparalleled support, care and peace of mind through prompt delivery, through coordination and responsive response and we recognize that our success is dependent on the people we bring in.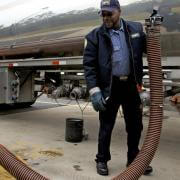 Trade Certifications & Associations
We are proud of where we've come from and excited about where we plan to go. To that end, we remain active in industry groups and associations. We are members in the:
NC Propane Gas Association
NC Petroleum & Convenience Marketers
SC Petroleum Marketers Association
Pope Transport also has certifications and associations with: the Carolina Star, NCTA, NACS, PMMA and more.
Business owners partner with Pope Transport for all their petroleum transportation and delivery needs. Reach out to our team of specialists by phone at 800-329-1137 and let us assess your needs today!
Proudly serving customers in the Raleigh, Durham, Greenville, Greensboro, Charlotte, Asheville, Wilmington, NC , Columbia, Spartanburg, Greenville, North Augusta, Lexington and Charleston, SC and Chesapeake, VA.